Update: 8th February 2018
We have completed sending out notifications re payments and uncollected items for which we have seller contact details.
However, there are a number of sellers who have taken their seller sheets with them and as a result we don't know who they are and cannot contact them re any outstanding payouts or uncollected items.
If you were expecting a payment or think there might be uncollected items belonging to you please contact us.
We have almost 300 uncollected items belonging to 80 sellers and several items whose owners we cannot identify. This is in addition to several items which do not have labels. Given the additional workload in processing these items and contacting their owners we will not be bringing items back with us next year, we simply don't have the time or the space to process/transport such a large volume of items. We will allocate additional time next year for owners to locate their items however it remains the owner's responsibility to collect all their items.
Update: 31st January 2018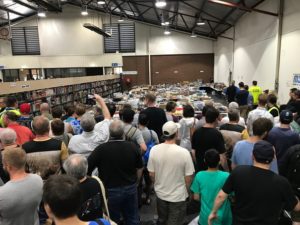 On behalf of Team MOAB I'd like to thank you for your support at CANCON. In addition to a substantial amount of pre-convention preparation, 11 of us worked very hard for 4 days to bring you the CANCON 2nd hand stall.
Uncollected items
On closing a very large amount of uncollected items were gathered up and these have been brought back with us. We were just able to load them in our truck otherwise these items would have been left at CANCON and disposed of by CANCON management at the end of the day.
Over the next few weeks we will sort through these items and if identified contact the relevant seller by email.
Items may be returned to the relevant seller at their expense and for a limited time sellers may make arrangements with me to personally collect their items from my Sydney address. Items will only be held until 18th February 2018 after which uncollected items will be disposed of.
Outstanding payouts
Over the next week or so we will be going through our list of transactions for outstanding payouts this includes sales that have occurred after a seller has booked out their items and for items which have been flagged by our system as having errors and so were not included in previous payouts.
If an outstanding payout is identified the relevant seller will be contacted and asked to provide their relevant bank details so that the payment can be sent via electronic bank transfer.
Given the volume of material and work in front of us all of this is going to take some time so please be patient.
Regards
Team MOAB
Update: 23rd January 2018
Uploading Seller List is no longer available online.
Additionally, we will accept Seller Lists on USB between the hours 2pm to 6pm on Thursday and between the hours 7:30am to 9:30am on Friday.
After these times, we will not accept Seller Lists on USB, they must be supplied as printed or handwritten sheets.
Update: 8th January 2018
"First Wave" Ticket Entry
We continually seek to improve the shopping experience with the Second Hand stall.
Our move to the Fitzroy pavilion more than doubles our floor area, giving more elbow room and our new shelving and table system allows us to more than double our display area. This means less crowd and easier shopping.
We know that our customers can queue up for hours to get tickets and non-Canberra residents especially find it difficult to get tickets to our earlier entry times. To improve access to all our customers we are offering "First Wave" tickets for sale.
To alleviate the crush ticket numbers will be limited to 125, and First Wave ticket holders ONLY can access the stall from 11am to 11.30am on Friday 26th. This means gaining access to the 2nd Hand Stall 30 minutes prior to everyone else. The general public will not be given access till after 11:30am.
eTickets are on sale for $20 each (see below) and can be purchased multiple times. Online ticket sales will close at 6pm on Wednesday 24th or until sold. Unsold tickets will be available at the 2nd Hand Stall at CANCON for purchase.
Children 15 years and under do not require a ticket, if accompanied by a ticket holder.
Bring a 'copy' of the eTicket email (either on your phone or printed out) to the Second Hand stall at CANCON between 2pm and 6pm on Thursday 25th and from 7.30am to 10.00am on Friday 26th and we will give you a physical ticket.
First Wave Tickets are no longer available online. If available, they can be purchased between 2pm and 6pm on Thursday 25th and from 7.30am to 10.00am on Friday 26th.
Update: 6th January 2018
This year's Cancon 2nd Hand stall is going to be bigger and better than ever before.
We are moving to the Fitzroy pavilion which allows us to double our floor size and more than double the available display area using our new shelving system.
This huge increase in display area will allow us to separate items for sale by category as an example Books, Board Games and Miniatures meaning you don't have to wade through a lot of stuff you are not interested in looking for what you want; shopping will be quicker and easier.
And for those of us with dodgy knees there are No stairs, with easy access to our doors for delivery by foot or car.
Our improved computer system V.3, which was rigorously tested at MOAB 2017, will significantly speed up sales and those all-important payouts.
And don't forget Seller forms can now be submitted electronically.
Keep informed and subscribed to our Second Hand Stall updates.
CANCON 2018 Second Hand Stall
Sutherland Shire Gamers, on behalf of the Canberra Games Society runs the Second Hand Stall at CANCON in Canberra in January of each year.
Please subscribe to our updates for the Second Hand Stall at CANCON.
To improve our service, we regularly review and may change our forms, sales procedures and hours of operation from year to year. By receiving updates you will be kept informed of any changes made. The important points to remember for this year are:
We are now located in the Fitzroy Pavilion. There will be additional signs to help you to find us. Moving to Fitzroy Pavilion gives almost double the space with extra tables, new shelving and more room between tables.
The Seller Code requirements has now changed to a FOUR letter code. Please remember that all your items for sale MUST be clearly labelled with the same FOUR letter code and an item number (eg. SSGA01, SSGA02). See our Terms & Conditions below for all requirements.
Computer system V3.

Seller forms can now be submitted electronically (See below).
New & Improved and faster payout process.
Entry to the Second Hand Stall on the Friday morning will be via a colour ticketed entry system. Different coloured tickets will be issued to attendees that will permit them to enter the Second Hand Stall at a specific entry time. Effectively the earlier you get your ticket the earlier your entry time is, tickets will be available from 7.30am on Friday morning at the Second Hand Stall. Only 1 ticket will be issued per person.
This way individuals do not have to remain in a queue waiting to get in but can wander off and come back at a designated time for automatic entry at that time.
A reminder that the 2nd Hand Stall is CASH ONLY.